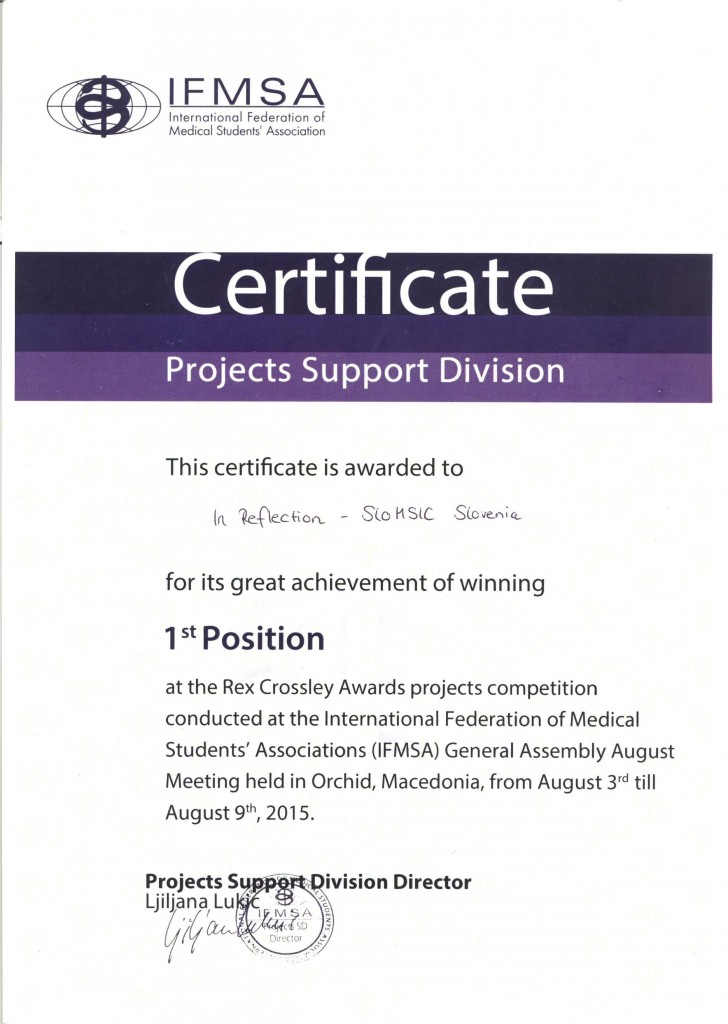 THE REX CROSSLEY AWARD
IFMSA (International Federation of Medical Students' Associations) was founded in 1951  and is one of the worlds oldest and largest student-run organizations. It represents, connects and engages every day with medical students from 127 national members organizations in 119 countries around the globe.  IFMSA brings people together to exchange, discuss and initiate projects to create a healthier world. There are a number of intergovernmental and nongovernmental organizations which are IFMSA partners in fruitful and long-lasting collaborations as the UN, WHO, WMA and EU.
IFMSA biannualy gives a »Rex Crossley award«to three exemplary activities done by NMOs in local and/or national level. After rigorous assessment the best 14 projects get opportunity to present their achievements to 1000 medical students and get published in the Medical Student International, an IFMSA biannual publication while the best three are given the Award in the last Plenary of the General Assembly. The Award is named by Rex Crossley, one of the founders and the first president of IFMSA.
In august 2015 at the general assembly in Macedonia our project received this award. Project In reflection has been a part of SloMSIC and IFMSA for two years at that time. This award has showed us, that no matter the short time the project has been operational, we are doing a good job. In the future we intend to continue with our work in the field of raising awarness of mental health and destigmatising mental disorders. We are looking forward to the challenges that await.